2
Order status text
multimixer | work | Thursday June 25 2015
Did you got tired of typing in the same text, over and over again, each time you are updating the order status of an order?
If yes, then here is a nice solution for you: automated order status text. Each time you update the status of an order, the system will add automatically a predefined text to the "comments" field of the order
Lets see the details
On the order statuses page in admin, you'll get a new text field where you can add a standard text for each status and each language you use in your store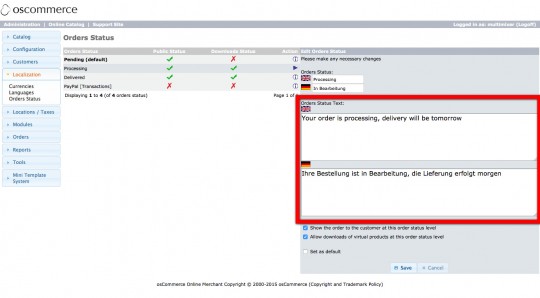 When updating the order status for a given order, the standard text is added automatically to the order comments field
You can of course edit that text and add e.g. a tracking number or some personal message etc
The modification require some small code additions to 2 core osCommerce files in admin, there are no major changes that would affect any other functionality you have in your store.
The modification work also very well with the addon "order editor" in case you have that
Let me know if you are interested in this modification, I think its a very handy little modification that will save you a lot of time
Click +1 to recommend this to your friends when they search.