20
Mini Template System for osCommerce v2.3.1
multimixer | work | Sunday December 19 2010
I recently got the idea, and task to my self, to create a basic, generic template for the new osCommerce version 2.3. In other words not "just" a template, but a flexible base that could carry many types of stores and open to any customization.
In detail, the task included:
jquery ui widget compatibility: Since this feature is included in osCommerce it should be kept and wherever possible expanded. It's a nice, fast and easy way to change the look of the store. The jquery ui themeroller is a great and free online tool, each one can go and pick whatever he like. The point is, that it should be easy to integrate into the store, without having to change anything in the files
Flexibility: The template should be flexible in any way. Unlike other templates, that look nice eg when they have 6 products on the front page, but totally screwed up when having to display just 4, the template should look nice under "any conditions". It should look nice with wide or narrow columns, with all boxes on the left or on the right, or even with no boxes at all. It should look nice with or without banners, should be able to take a "minimal" or "overloaded", a pale or strong look without any problems
Common sense: it's maybe just my point of view, but some things look to me like having a "natural" order. For example, some links, like "login/logout", or "order history" etc belong to the header. Same the information about what's in the cart. Same, and most important, for the checkout link. Why? Because they have to be accessible any time from any page without having to search or to scroll. Same also for the boxes: not everything has to be in a box. I saw once a addon to osCommerce that was doing the incredible thing to add the paypal logo to the store in a side box, with border and titles as : "the paypal logo". So, each template removes some boxes, depending on how it is structured: If there is a search area in the main navigation menu, there is no necessity for a search box, right? Common sense for me, I hope you share my point of view.
Admin controls: The store owner should be able to manage the main structure of the store right from the admin panel. It's not possible to expect from every store owner to be a php expert, to know about css and who knows what else. Also not possible to expect from store owners to spend hours reading tutorials and asking questions about how to change the background of their store. Also not acceptable no expect store owners to pay a good amount of money for every single change they need.  A store owner should be busy with commercial activities and not with coding
Easy and native operation: Everything should be easy for the store owner. Easily to drop in a new template, easy to activate or deactivate it, easy to modify it. Easy to create various looks of the same template, easy to share them with friends and colleagues to get opinions, leaving the current store operation untouched. But also for developers designers, it should be easy to jump in at any point and start customizing the way they want, without having to spend the half day, trying to understand how everything is structured.
100% osCommerce compatibility: All main files should stay in their original condition without any changes. This was of highest importance to guarantee conformity and easy integration of addons and/or upgrades of the core code. Also, in case somebody wants to uninstall it, the whole system should not leave any garbage behind.  This was also the hardest part, because all design had to be implemented without adding or removing css classes or changing the markup. You can say it had to be a "remote" designing only and exclusively via css and some functions.
The result? Yes it is working. You can just upload a template to the templates folder, go to your admin, click "install" edit any settings you need, then click "activate" to go live with it. Much like in wordpress. A new template installation won't take you more than 3 minutes, the de-installation (in case you want to go back to the default look) will cost you just one click.
In a first step you can change the ui theme, color scheme, shadow structure, column position and column width. This gives already more than 1000 possible combinations and should be satisfying for most of the cases. Here are some screenshots of combinations I like (It's possible of course to create incredible combinations too)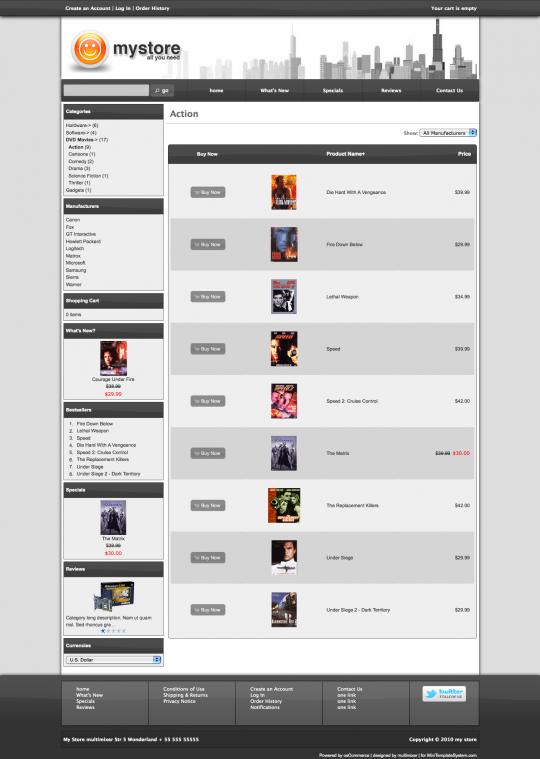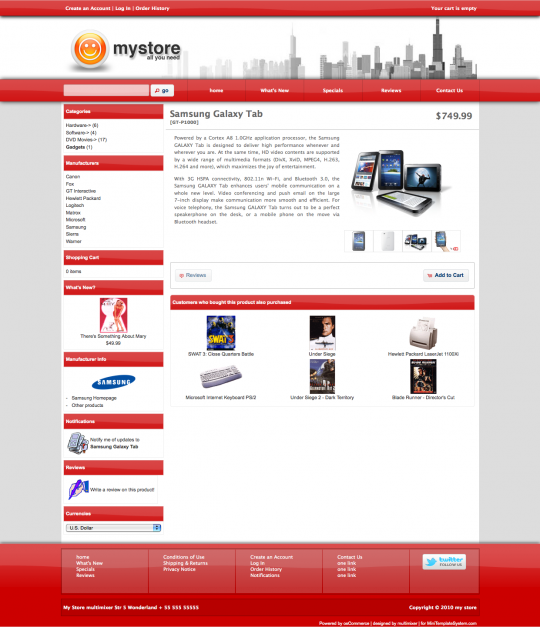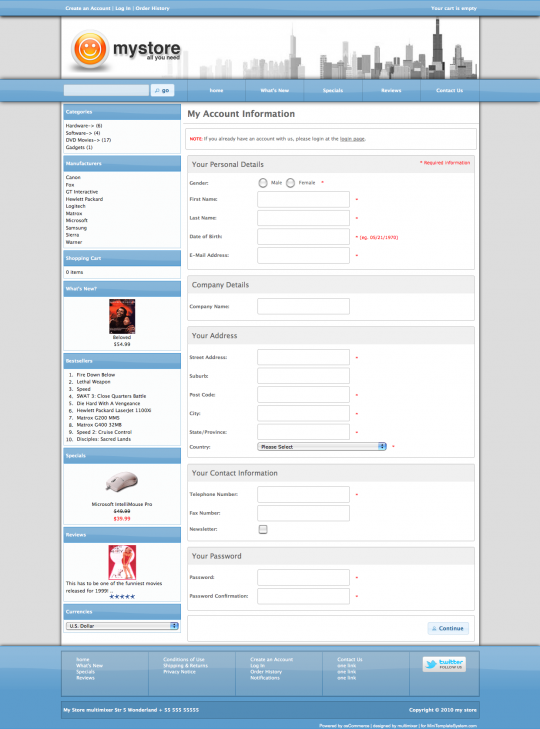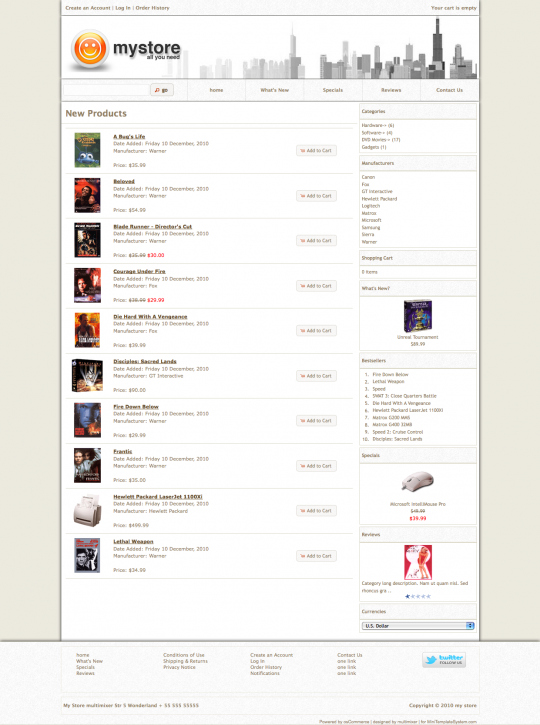 There are uncountable combinations possible. You see that even I say "base template" it is like having many, really many templates for osCommerce version 2.3.1 available any moment, just a click away.  I'll create some more shadow/wrapping/color schemes, and of course some more templates. Isn't that great? To switch for example no, in the cChristmas time, to a Christmas template and then back again to the regular one? Don't forget that this all is done in your administration panel, easily and comfortable by clicking on buttons. Here is an idea of the environment in admin: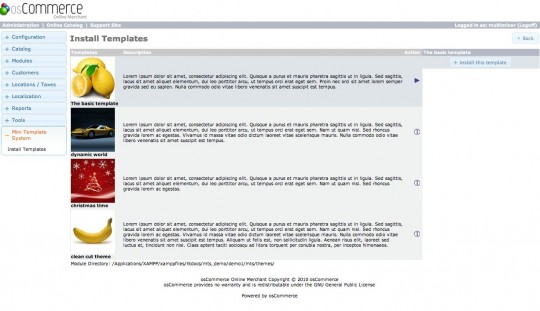 For "advanced" users it's possible to "inject" html and css classes to critical points of the page, like before or after the main container, or the columns. This gives you the change to create even more specific designs without even touching the osCommerce files. That's also great for template designers.
The immediate next steps are to add some nice features, like a modular index page (that's the front page and the product listing pages), modular product information page, a true menu manager for the main menu,  a boxes manager to control when, where, how and under what conditions each box should be displayed and so on. And also some more nice jquery effects, to take advantage of what is already installed in osCommerce.
However, more detailed articles about will follow in the next days.
I uploaded a first "demo" version of the template. You can find it here: mini template system for osCommerce v2.3. I hope that the system will be available to download in the next days.
Please do not try to browse with internet explorer, the support for this is under development. Naturally IE users will never enjoy the quality of firefox and safari browsing, but that's not my problem
If you see something that you don't like please let me now, if for example you don't see the header on the top of the page but on the right, or the bottom, thats something I would like to know. You can say it also when you like what you see always nice to hear a good word from time to time.
Click +1 to recommend this to your friends when they search.