7
live price update
multimixer | work | Tuesday October 14 2014
In the default osCommerce configuration, you can see the actual price you have to pay for a product after adding it to the cart and only on the shopping cart page.  This may be confusing or annoying in case you have multiple options that affect the price or offer quantity discounts, or both.
Much better to have the price updating "live" – in real time – as people change the quantity or select options on the product information page. I already posted a while ago about how to add a quantity input field to the product information page, let's go now a step further.
There are several add ons available in the osCommerce add ons area that promise to do a live price update, none of them worked for me under really all circumstances, so I decided to create my own approach.
The main difference to any other solutions, is, that I use exactly the same calculation ways as it is done in the shopping cart class of osCommerce. This is not the case with the existing approaches that try to recalculate the price using some javascript calculations: The calculation results are not always accurate, there are issues with different currencies etc etc
My approach calculate the price in exactly the same way as the core system of osCommerce does: The price you see on the screen on the product information page is exactly the same that goes into the checkout process. It is tested and work with any add-on that may affect the price, such as SPPC (separate pricing per customer), QPBPP (quantity price break per product), Option types, QtPro etc etc
Installation is extremely easy to do: There is only one file that require minor modifications and 1 more file to add, that's all + of course the easy modification to add a quantity input field to your product information page
Take a look at the online example here: Live price update example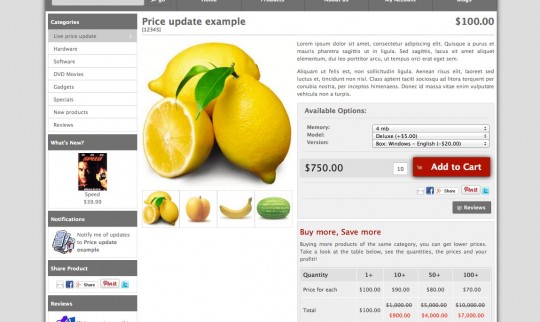 The example is using SPPC and QPBPP in order to demonstrate the ability to include the price breaks into the live update functionality, it is of course not necessary to have this installed
Let me know what you think of this extension and get in touch if you want to have it on your osCommerce store
Click +1 to recommend this to your friends when they search.