14
How to upgrade your jQuery UI version in osCommerce
multimixer | learn | Thursday January 6 2011
I posted some time ago about how to get a new (ui) theme for your osCommerce store. Doing this today, you will notice that jQuery UI upgraded their version, and that means that, if you want to get a new ui theme, you have to upgrade the ui version that is used in your osCommerce store too.
No panic, things are easier as they sound, just a couple of files to replace, but first, let's take things from the beginning:
osCommerce uses jQuery version 1.4.2 and jQuery UI version 1.8.6. The latest jQuery UI version (that is required by the themes to function) uses jQuery version 1.4.4 (the latest) and jQuery UI version 1.8.7. You will also note that any new theme you download from themeroller uses a file "jquery-ui-1.8.7.custom.css", and that's a clear indicator that the theme belongs to the new UI generation
I red somewhere in the osCommerce forums that it would be enough to just rename the "jquery-ui-1.8.7.custom.css" changing the 1.8.7 to 1.8.6 and that's it. I can not really say that I share this opinion, what I can say is, that doing so will result to expected and unexpected problems. I'm not a jQuery UI expert, but I want my datepicker to be working, just an example.
The correct thing is to upgrade, and thats easy to do.
First, let's find the files that need to be changed in the osCommerce file structure. Here they are
catalog/ext/jquery/jquery-1.4.2.min.js
catalog/ext/jquery/ui/jquery-ui-1.8.6.min.js
and the folder catalog/ext/jquery/ui/i18n/
I made a picture where you can see how they look on my computer, they are marked with green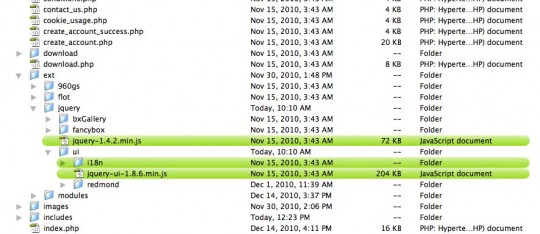 The new files we'll find in the downloaded folder from jQuery UI. How and where to get this folder is described here. The files we need are marked with orange in the image below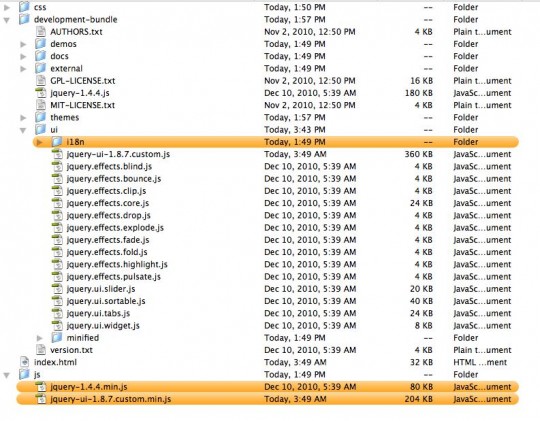 All we need to do now is to replace the green files of osCommerce with the new orange jQuery UI files. First we need to rename file jquery-ui-1.8.7.custom.min.js to be jquery-ui-1.8.7.min.js we just strip the word "custom". No chance to do something wrong here
Last thing is to let our system know that we do use a new jQuery version now. To do this, we need to open file catalog/includes/template_top.php and find following lines
<script type="text/javascript" src="ext/jquery/jquery-1.4.2.min.js"></script>
<script type="text/javascript" src="ext/jquery/ui/jquery-ui-1.8.6.min.js"></script>
All we need to do here is to replace the number 1.4.2 with 1.4.4 and the number 1.8.6 with 1.8.7 so that our lines look like this
<script type="text/javascript" src="ext/jquery/jquery-1.4.4.min.js"></script>
<script type="text/javascript" src="ext/jquery/ui/jquery-ui-1.8.7.min.js"></script>
Of course, also the line No 29 need's to be changed, the one that refers to the UI theme to be used, we need to use a version 1.8.7 theme, that's finally the reason of the upgrade.
<link rel="stylesheet" type="text/css" href="ext/jquery/ui/redmond/jquery-ui-1.8.6.css" />
The process to do this is described here, just use 1.8.7 instead of 1.8.6
Enjoy
Click +1 to recommend this to your friends when they search.